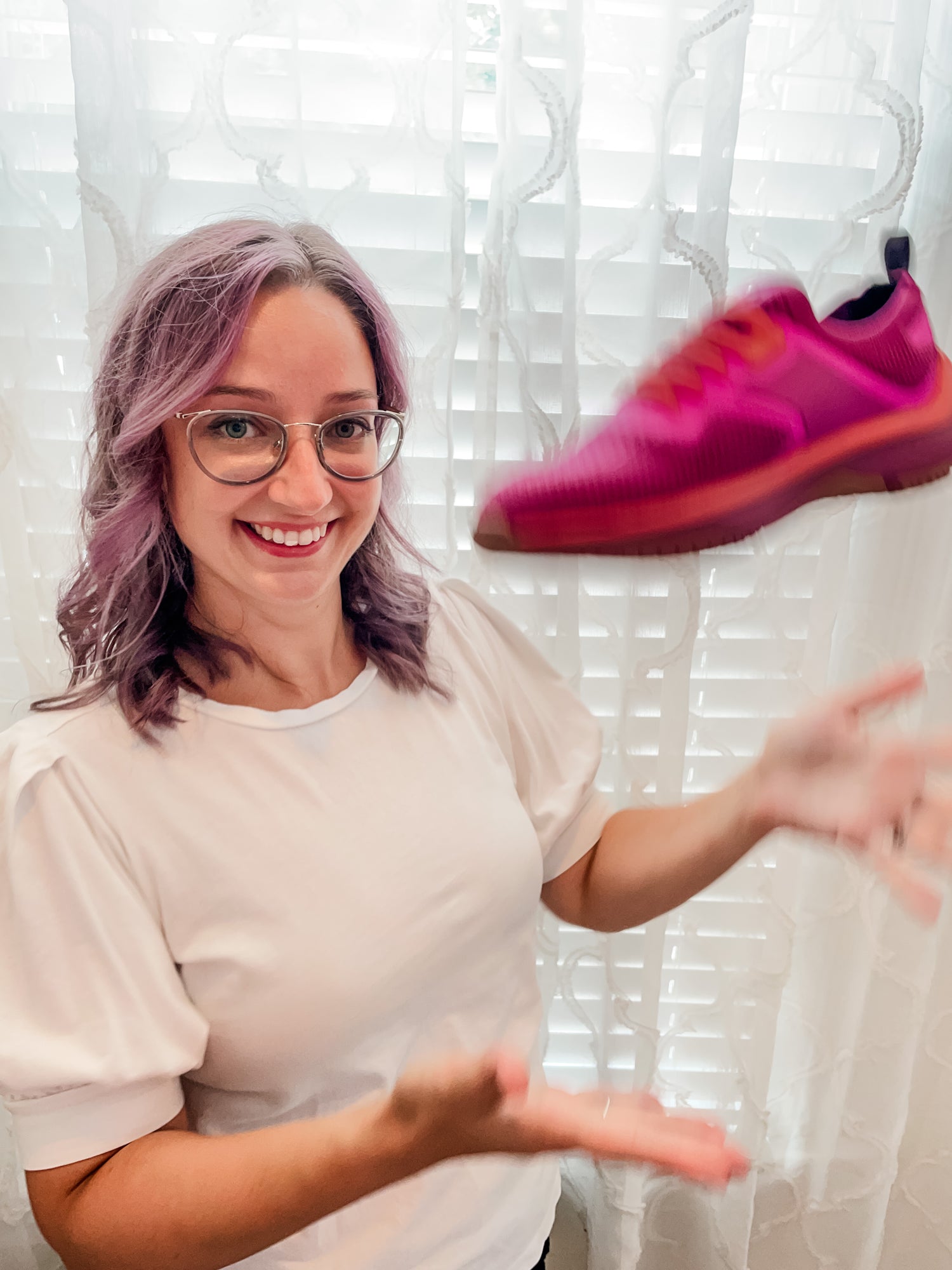 14 YEARS IN THE MAKING
Our founder, Jenny Morrissey has been making shoes for 14 years, but what she's also witnessed in that time was the lack of attention to the needs of nurses and their everyday battle with the right shoes.
It is Jenny's mission to take one less thing off every nurse's plate — shoe shopping. Nurses spend countless hours searching for the best nursing shoes, not to mention the huge expense in trying something new, hating it and having to buy the next shoe on the long list of what the internet tells you is made for nurses. And so the story goes and the cycle repeats itself.
In 2019 Jenny began this journey to the center of nurses and she wants to share every step of the way.
Collapsible content
OUR TIMELINE

We want to be as transparent as possible with our development process.

We encourage every nurse out there to preorder a pair of shoes TODAY so that we can keep our promise of delivery and maintain a small business approach to keep nurses at the center of everything we do.

Research & Design: September 2019 - May 2020
Prototyping: November 2020 - July 2023 (yes, 3 years of perfecting the prototype)
Size 7 Wear Test Sample Run (self-funded 5 Vital + 5 Reflex: Delivered to Cincinnati on August 9, 2023)
Size Run Wear Test Sample Run (grant funded 20 Vital + 20 Reflex): December 2023
Planned Production: January 2024- April 2024 
Shoes EDA (estimated doorstep arrival): May 2024 
Collapsible content
100+ NURSES & GOAL TO SOLVE THE PROBLEM

Step 1 in our product development process involved 3 months of market research. We conducted extensive 1:1 user interviews, carried out a detailed quantitative survey sent to nurses nationwide, and did a comprehensive study of popular shoes that nurses love and don't love.

After hearing from 100+ nurses and doing a deep dive of the competitive landscape, the opportunity was clear: nurses were not satisfied with the current available options, and there was so much room for innovation in the comfort, easy to clean, high quality and stylish footwear space.
Collapsible content
How did we design this outsole, exactly?

We sought out the best of the best when it comes to outsole design and materials.  If we wanted to offer great quality shoes for nurses, we knew that Vibram® was the right partner. Vibram® has a long history in performance outsoles made for outdoor sports, military outsoles and innovative rubber formulation & design.

Slip resistance isn't something that is top of mind for nurses, but if we were going to make these shoes right, it had to have all the features.

If you want to learn more about what makes a slip-resistant shoe, read more here.

You'll see in the above graphic a thumbnail sketch of our concept. Once we confirmed the concept, our designer created a 2D technical package (tech pack) outlining a bunch of measurements as a starting point for the Vibram® team.

We sent Vibram® our tech pack and they did a fantastic job keeping our heart detail at the center, while ensuring it met all the slip resistant standards.

From that point Vibram worked closely with the last to ensure that our outsole had the right tread pattern. In other words we don't want your foot to feel wonky when you slip into the shoe. Everything has to fit together like a perfect puzzle.

Vibram® created a blueprint of outsole with every cross section measurement you can imagine.

We confirmed that blueprint and they created a 3D model out of plaster.

We went through one revision to the outsole, confirmed that change with a 3D print and opened our first mold. Opening our first mold was so important because it meant that we could start putting shoes on our feet!
Collapsible content
Who knew it would be this complicated?

As we said, our founder has been making shoes for a long time, but she had no idea how much time, design work, & manufacturing engineering would go into this insole.

We had a lot of requests when it came to this insole.

1. It had to be contoured to fully support your feet and your alignment.

2. It had to have long lasting comfort and cushion

3. It had to be breathable and reduce friction inside the shoe

Let's take a look at how our materials solve that.

Foam: Polyurethane. The entire insole needed to be made with a closed cell poured polurethane foam because it is the best. You only see this foam being used in orthopedic shoes anymore because it can be difficult to manufacture with and colors are very limited.

Do you ever dread putting you shoes on for you next shift? Our foam helps with that, here's why.

This foam is tested and performs really high in compression cycles. Which means it doesn't break down easily. It gives you the same cushion from the moment you put it on until the moment you take it off day in and day out.

Gel: For your heel pain, duh! Over time your feet change, espcially when you are on your feet 12+ hours at a time. With that change comes a decreased amount of fatty tissue in your heels. So we need to compensate for that loss of padding in your heels and add it to our insole!

TPU Heel Cup: Contoured to fit your feet.

The most rounded and 3 dimensional part of your foot is your heel. You bear most of your weight on your heels. When you walk you strike with your heel first. This is why we need to reinforce the heel with a thin layer of plastic to fully secure and support you.

Silver-Infused Mesh: Say what?

Silver has some pretty amazing antimicrobial, deordorizing and heat regulating properties. It's the perfect fiber to infuse into the mesh of our top cover.

ALIGNMENT

If you have gotten this far in scouring our website, than you probably saw that 2 out of 3 nurses suffer from musculoskelatal problems (oh my!)

So much of your musculoskelatal alignment comes from your feet. Every foot is different but we have scanned countless amount of nurses feet to find the perfect balance of contouring to help align your body.
Collapsible content
Where the magic happens

Using our handy dandy technical package ("tech pack"), the factory was able to take their first crack at bringing our shoes to life!

The first step in making prototypes is determining the shape, sizing and fit of the last.

THE LAST: The plastic or wooden mold that fills the void of a shoe.  We knew that nurses were experiencing swelling around their feet and toes.  Last making is a very meticulous process, but we worked with our last maker to adjust the measurements around the foot and toes to solve this problem. Because most shoes lasts are made to fit a 2 or 3 millimeter flat insole, our last was built to accommodate the 10 millimeter contoured insole.

There is also something call toe spring. If you were to place your shoe on a table, you would see that the toe slants upward. The distance between the table and the end of your shoe is called toe spring. Our shoes don't have a high toe spring and there is a reason for that. Too much or too high of a toe spring can weaken your foot muscles over time. It may feel great out of the box but your cradling the foot and stride too much will isolating your precious foot muscles.

THE PROTOTYPES: Our Italian factory transformed our 2D drawings into pull overs. Pull overs are sock-like versions of the uppers that fit with the utmost precision.

We saw our first pullover in May 2021 and over the course of 2 years we went into 5 rounds of design changes and corrections to get our design and functionility to work seamlessly together.

THE DETAILS: We had a strict instructive from nurses to create stylish, funtional and breathable shoes.

THE VITAL: WIPE CLEAN

Messy environments deserve the immediate satisfaction of wiping clean. This is a feature nurses loved about clogs and some other brands out there. We wanted to make sure we got you covered.

The trick with wipe clean features is that they are virtually impossible to keep breathable. We used a lot of inspiration from the hiking boot market to balance breathability with water repellent coatings.

The entire toe is a one piece, seamless design that keeps the most exposed part of your shoe protected from those messes.

We kept the tongue portion of our shoe open knit to allow air to escape and added some breathability windows on either side of the shoe for a nice cross breeze.

The materials used here are motorcycle grade coating that ensure maximum durability and long last wear & tear.

THE REFLEX: MACHINE WASHABLE

Ya'll are wearing running shoes to work and we get it. But what if we can do better than a running shoe?

Who's feet out there are getting ridiculously sweaty?? Yeah, we hear ya. And we don't want you to sacrifice your ability to clean your shoes either.

The reflex has a simplistic and professional styling that allows maximum airflow through your shoe.

While both of our styles offer a single piece knit construction to keep them ultra breathable, the reflex is more sock-like than any other nursing shoe on the market.
Collapsible content
Measure twice, Cut once

Let's get this straight, we are not just going out there and selling a shoe to nurses on a whim. Our founder knows you get one shot at proving your shoes can be trusted to fit and perform. So we are going to take our time and do this the right way, with nurses at our side.

Our wear test process started in August 2022. Our first prototype was tested by a nurse from University of Cincinnati Medical Center.  She gave us GREAT feedback that we quickly reacted to and corrected in our next series of prototypes.

Phase 1: Test the sample size
We are currently in a phase of testing out a small run of samples in our sample size. Feedback from this phase will determine any tweaks we need to make to the fit, functionality, and durability of our materials & foams. Ultimately this will prove our promise to deliver you the best nursing shoe on the market.

Phase 2: Test multiple sizes
Once we feel confident that our phase 1 is approved we will then go into size grading. This is a process where we take industry standard sizing requirements and make a rainbow of sizes.